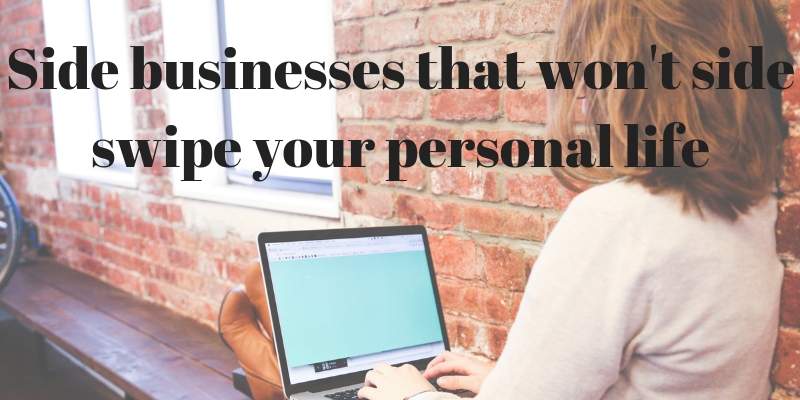 Contributed by: Ben Lovell
My great-grandparents made money with the side hustle. I bet yours did too. Raising my grandmother during the nadir of the Great Depression, they generated revenue in any way they could. Whether that was trading surplus eggs, stitching a quilt, or helping a neighbor with a harvest, they did what was necessary to provide. And survive.
Now, flash forward 80 years. The 2008 housing market crisis and resulting recession cost the average American $70,000 in lifetime income. By 2009, unemployment hit a record 10%. Remaining jobs saw a cut in benefits and a stagnation in salaries and hourly pay. Millennials (b. 1980 – 1995) are the first group of adult Americans with a leaner financial situation than their parents.
Like millions of others, I've turned to a side business to supplement my primary income.  Passive income streams and self-run gigs are flexible, have a low startup threshold and are increasingly in demand. Stick with me as I lay out five side gigs that won't sideswipe your personal life.
#1 Freelance Writing or Design
I'll lead off with the side hustle I know best. Freelance writing requires a minimal amount of startup capital and preparation.  If you don't have a computer with internet and the appropriate software, a library card will get you access to most of what you need.
I began freelancing using a site called Upwork. This allowed meto build a writing portfolio and verifiable work history.  I could browse thousands of potential employers, and I was protected against having my intellectual property ripped off.  Upwork charges a finder's fee of 10% – 20%, but this was well-worth the benefit of sourcing new clients. Today, I work with a variety of employers and colleagues who publish my content (like this article).
Freelancing by the Hour
When you're just starting out, I suggest charging your employers an hourly rate.  This helps you demonstrate your work and your worth as you get established.  You can use one of many time-tracker apps to catalog your efforts and report them to your employer as necessary.  Specialized skills such as graphic art or web design tend to fetch higher compensation than more generic work like writing copy.  My suggestion is to see what your competitors are doing (another advantage of a freelancing platform like Upwork) and then lowball your rate until you establish some credibility.
Freelancing by the Project
Once you have a respectable portfolio, you may want to charge based on the entire project.  This is usually a harder pill for employers to swallow, but it cuts out a lot of tedious tracking and reporting.  If the project has a long timeline, and you need money faster, consider billing for verifiable milestones.
#2 Product or Brand Promotion
Product endorsement used to be the privilege of household names and credible experts.  Now, laypeople can generate income by promoting merchandise.  If you can cultivate an online following who look to you for recommendations (either specific or general), you can make money by promoting specific products and services.
Affiliate Articles& Blogs
With online affiliate marketing, you recommend products or services and then make income (basically kick-backs) when your site drives traffic to the products' site (quantified by 'click-throughs'). If you don't yet have any sort of following, consider writing articles for an established affiliate website known for authentic product reviews.  Once you have a large enough following, you can generate this income yourself through a content-driven, industry-specific blog.
YouTube Channels
Product promotion on a YouTube channel is basically television advertising on an individual level. You generate content and producers advertise on that content.  You get paid when you reach a certain number of views. YouTube's current threshold for sponsorship is 1,000 viewers and 4,000 hours of watched content. Successful YouTubers tend to keep their content specific and consistent. Dependability increases the comfort-level for both viewers and advertisers.
#3 Photography
Most photography on the internet doesn't originate from professional photographers.  Modern digital cameras enable amateurs to share a high volume of quality shots.
Stock Photography
Stock photography sites like Shutterstock and Adobe Stock provideindividuals and companies high-quality photos with good composition.  Most people don't realize that these seemingly professional photographs are submitted by amateur contributors.While the better sites have rigid standards for acceptance, the camera on your phone probably has the technical capabilities to take and send photos of a high enough quality.  Now, you just need to find some appealing content and learn a little about composition.Once you get your photos accepted, you make a commission for every purchased download.
Photo Apps
Apps like Foap and EyeEmautomatically search the camera roll on your phone for the most in-demand and high-quality photos.  Once the app selects and uploads photos (with your approval), you get paid a small commission.
#4 Online Marketplace
It's no secret that an increasingly large amount of commerce takes place online.  As a consumer, a producer or even just a pass-through, you can get a piece of those transactions.
Credit Cards with Rewards
Many credit cards offer rewards and travel  benefits for making purchases.  As long as you pay off your monthly balance on time, making purchases on credit cards can increase your bank balance and your credit score.  If your work allows you to use a personal credit card for reimbursable purchases, you can generate cash back on credit card purchases without spending your own money
Your Own Online Store
From Christmas ornaments to Lego collectibles, amateur merchants make money by selling products online.  If you don't have the following or experience to manage your own website, make an account on a platform like eBay or Etsy.  For a percentage of your profits, they'll market your merch and guarantee payment for your sales.
Drop Shipping and Affiliate Stores
Drop shipping and running an affiliate store are two ways to keep a digital inventory of products from other producers. With drop shipping, customers order products from your site and you pass their information on to the supplier who ships to them directly.  Affiliate stores are even further removed.  When customers select products, they are automatically redirected to the seller's website.  Shopify is probably the most well-known site that facilitates this sort of arrangement. While you make smaller profits than with your own store, you never carry an inventory or manage shipping.
#5 Rideshare
While owning an automobile has historically been a financial drain, modern technology and convention have turned personal vehicles into a formidable asset for generating income.
Ride-Hail Services
Of course, I'm talking about Uber and Lyft.  Using your personal vehicle for hire is time consuming, requires initial investment and involves risk.  It's also incredibly flexible and highly lucrative. Drivers pick their hours and can even turn down fares.  If you're not comfortable driving passengers, spinoff services like Uber Eats employ freelance delivery drivers.
GetaRound
If you're comfortable loaning your car to other drivers, you can use a service called GetaRound.Using a phone app synched with a device in your car, customers borrow your car for an hourly rate. For a percentage of the profits, Getaround tracks and insures your vehicle. It's like Airbnb for your car.
The Bottom Line
What's the common thread stringing together all of my suggestions?
Technology and communication.  As consumers increasingly turn to search engines like Google to find products and services, passive income and side hustle prospects continue to present themselves. This is a wonderful opportunity to cultivate a dormant passion or experiment with a wild idea.
The key is research. Do your homework by reading articles and asking questions of others who have delved into your prospective pursuit. Once you have done your due diligence, take a calculated risk.  With tenacity and a little good fortune, you can join the burgeoning sector of society generating solid income from a side business.
A firm believer that freedom of information improves business, travel and life, freelance writer Ben Lovell is committed to sharing best practices.  Read more of his articles at the Gothic Optimist.