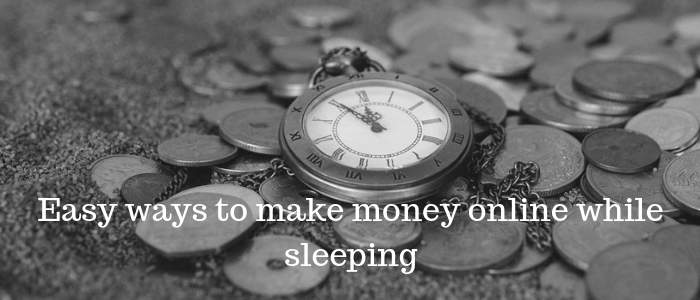 Making money while you sleep may seem like a dream to some people, but it can definitely become a reality. Here are 5 easy ways to earn passive income.
There are 155 million people in the American labor force. Of those 155 million, the vast majority share 2 big things in common.
They all have to clock in and out and they all trade their time for money.
If you're one of those 9 am to 5 pm workers and are looking for a better way to live your life and make money, you're not alone. There are tons of people who are looking to burst out of the rat race and start living their best life.
One of the best ways to do that is by investing your time in building income streams that generate revenue for you while you sleep!
Below, our team outlines the best earn passive income methods you should start exploring.
1 .Invest
One of the most common ways people make income in their sleep is by investing. There are a lot of different ways you can invest. Popular ways include stocks, real estate, art purchases, classic car purchases, and more!
The key to investing is to find qualified information before putting your money into things so you have the best chance of your investment appreciating as opposed to it depreciating.
Our recommendation for stock advice is to find a solid online resource that can give you the rundown on everything from Dunkin Donuts stock to index funds and beyond.
Fool.com is a great place to start!
2. Lend Money
Banks make a lot of money lending cash to others. Why can't you do the same?
Today, you can!
Through lending platforms like Upstart, you can lend your money to other pre-qualified individuals and enjoy collecting interest in your sleep. The only downside to this arrangement is that if a borrower defaults on their loan, you'll be out money.
3. Blog
Blogging is among the most popular ways people make passive income online. With a blog, website owners publish a lot of excellent content that indirectly promote advertisements and products.
When people come to read that content, some will purchase those products and click on those ads which will result in commissions for the blog owner.
With blogging, we recommend that you do some topical research on SEO before getting started. Without SEO, it can be hard to get the traction you're looking for.
4. Create Videos
If you have a knack for videography, you can start creating a library of YouTube content that you can run ads up against. The more YouTube content you create, the more traction your videos will get which means more revenue for you!
Over one billion hours get watched on YouTube every single day. Those billions of hours watched could mean thousands of dollars in your pocket.
5. Affiliate Marketing
Rounding out our list of earn passive income methods is affiliate marketing. With affiliate marketing, you get to make money by sharing other people's products online. When one of your product shares result in a sale, you get a commission.
Pretty simple!
To get started, sign up for Amazon Associates.
Wrapping Up 5 Easy Ways to Earn Passive Income
We've just shared 5 simple ways you can start making money in your sleep.
While earn passive income methods can take a little bit of a time investment up front, believe us when we say that you investing yourself today could mean serious riches tomorrow!
Want more of the best information you can find online about making money in simple and rewarding ways? If so, check out more of our content on SheKnowsFinance today!