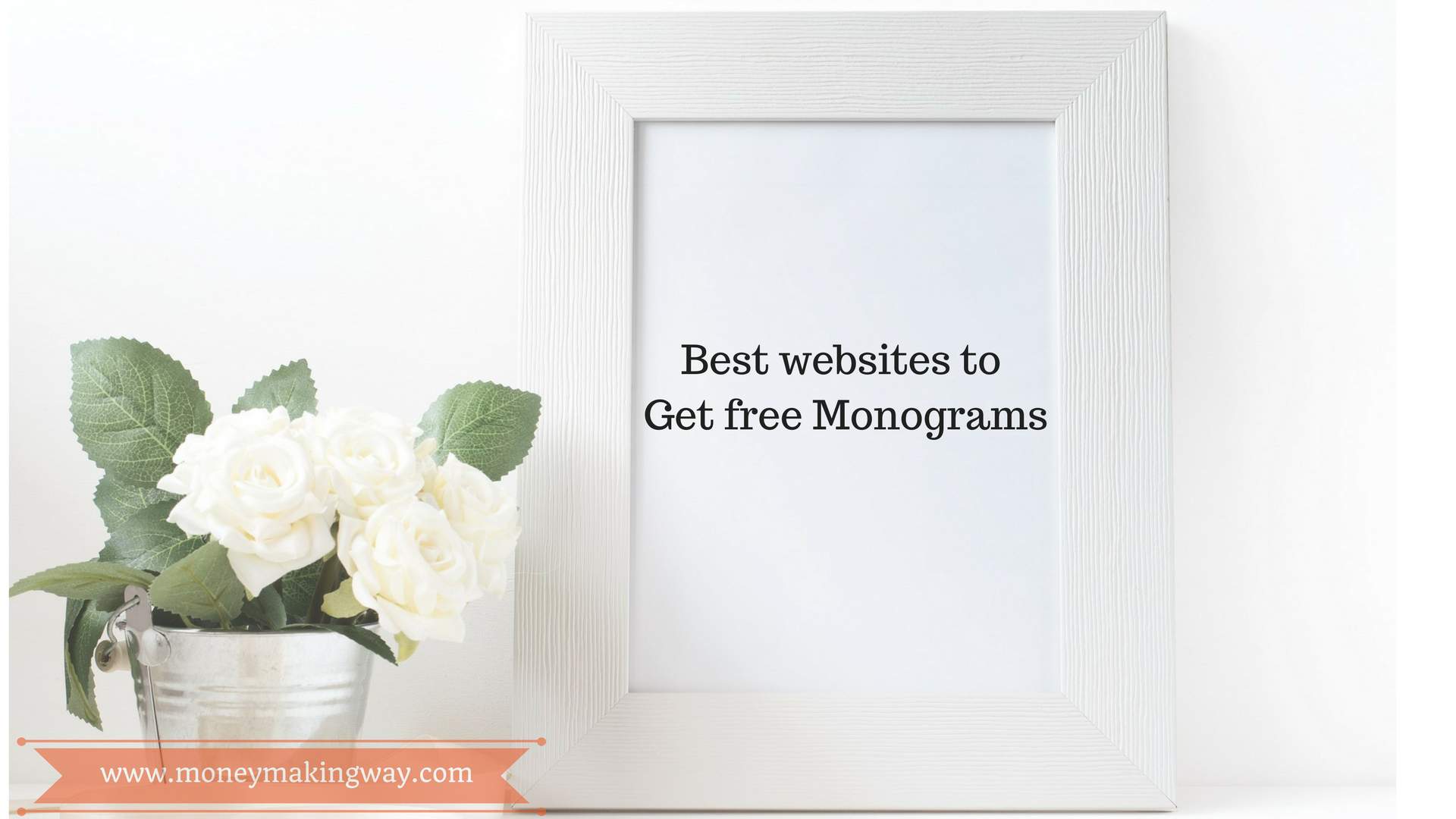 Customized & Personalized gifting is gaining popularity and due to this demand of customized monogram is also increasing. Especially if we talk about wedding then we can use monogram to personalize wedding gifts like a pillow, towels, and beer steins.
If you are looking for free Monogram for your wedding invitation, company, and address label. Then these websites would be really helpful to create your own Monogram and the complete process will take only couple of minutes. Just put your initials and select the style and color of the fonts and your desired monogram is ready.
You can download your monogram in Jpeg, PDF and in some other formats depending on the website feasibility. You can also create your monogram by using free monogram fonts and these are easily available on free fonts website.
Following are websites where you can generate your free Monogram
The website provides free monogram, especially for a wedding couple. Just enter the bride and groom name and click on get my free monogram tab. Select the style that you want to choose. In the next step, you would be able to do formatting like changing font size, color, position, font type, grid and much more.
Now click on download you will encounter the page to design your wedding card which is optional. Sign up is mandatory in order to download your design. You can find your free monogram under the purchased category of "MY DESIGN" this is because the price of your logo is $0.
Create your desired monogram in just three simple steps without any registration. Visit their website and at the home page, you will find the option to create your free monogram. Enter your initials and select the type of style you want to choose currently they have 27 styles available.
Next is to choose the color and your monogram is ready to save or you can also share to your social media accounts. The site is not only provided free monograms but you can also browse products related to lifestyle and wedding.
Invys offer free wedding monograms without any registration however you need to provide the email ID in order to receive the raw file. Creating monogram at envy is super easy. Visit their "try Invys for free" section and click on free wedding monogram maker.
Currently, they have 16 styles which you can choose. Select any of the design and it will take you to the art page. Where you can do formatting and designing of your monogram. Like changing color, font, alignment, and position of your logo
Finally, click on email my monogram and enter your email address. It will directly be sent to your inbox.
This is one of the cool websites where you can get your free monogram in one single step. Click on free logo maker and there are 21 styles available. Do the formatting on the same page and change your font size, style, and color. And at the bottom of the editing box, you will find the download option.
Here you neither you need any account registration nor you have to provide an email ID. On a single page, you can design and download your file.
Wedding Chicks is a popular site for wedding shopping and accessories. But the site also provides facility to create free monograms. Currently, they have 18 unique styles which you can choose to personalize your monogram.
First, select the style and then edit your design and on the same page, you will find a download option. Social media links are also available if you want to share with your friends and family.
Wedding wire is also one of the popular websites for free monograms for weddings. Enter your initials and select the style. They have around 20 elegant styles which you can choose.
Account registration is mandatory with wedding wire and while registration you might have to provide your wedding date. The last step is to download your PNG file.
Don't get confused with the name you can also design your monogram with onlinemaker. The best thing about this website is here you won't find and predefine templates. Instead, you can freshly design your own monogram and can also upload your image. So if you are creative then this website can deliver you some cool unique monograms.
Conclusion
Monogram is the great way to brand your items with your own initials. This could be associated with your wedding or any other special events. And the best part is that you can get these at free of cost. Most of the website who deals in wedding items generally offer service of free monograms. Because this is the best way to approach the potential buyer.