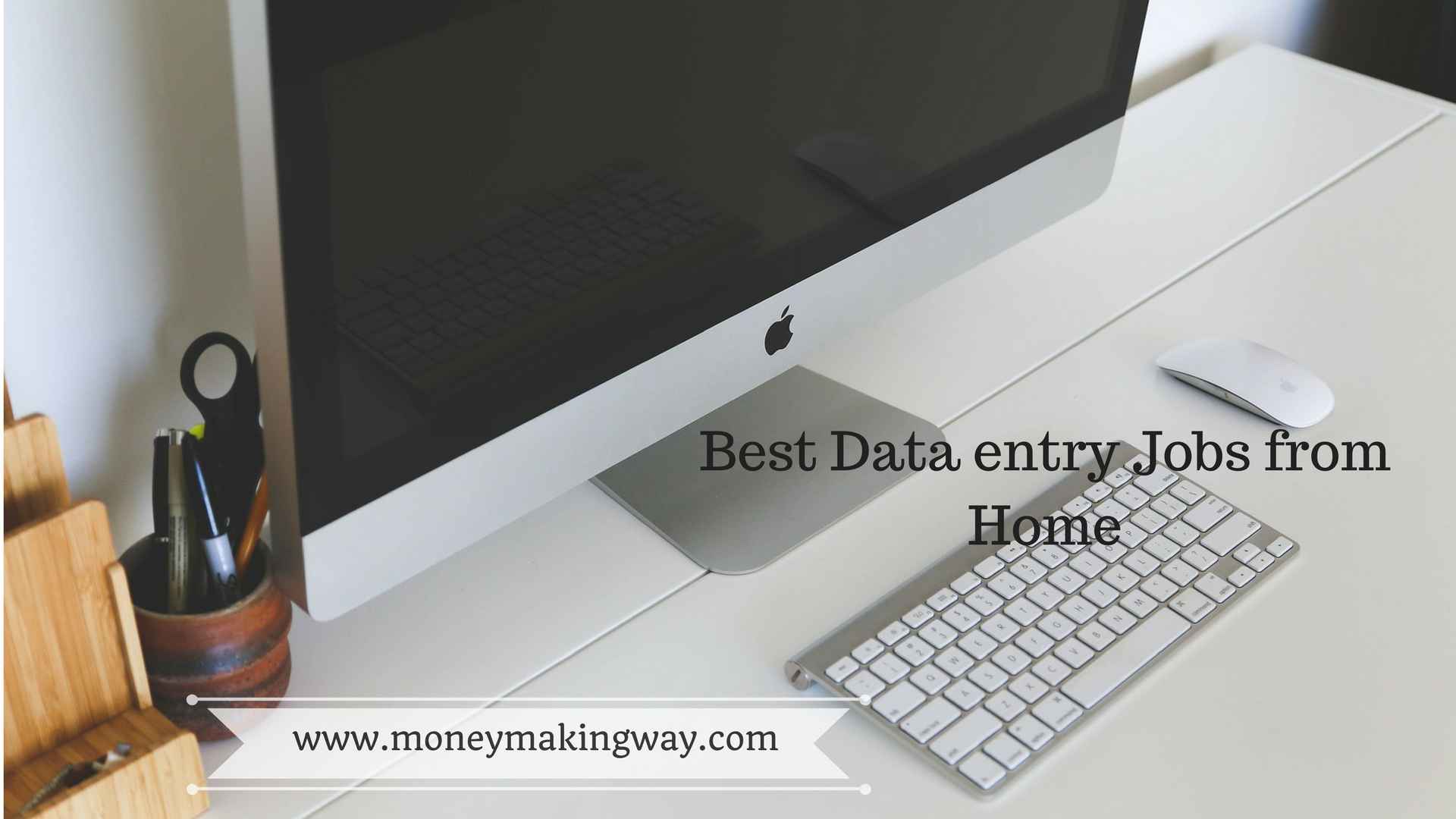 The Internet is full of data entry jobs but the Major problem is that all are not legit most of them are doing scam. So it is important to do some research and analysis about the company background and their work. Most of the time it is easy to identify the legitimate company but sometimes it becomes difficult.
So in order to help you, we have compiled the list of legit companies who are doing the genuine business of data entry. These are basically third parties who collect work from the different companies and offer work to us. And they share a part of their total earning with us.
Eligibility and skills required for Data Entry jobs
 The primary requirement is that you need a good typing speed with a decent accuracy. Usually, 50 wpm with 96% accuracy is considered a good for data entry jobs. But this can vary from company to company.
Basic knowledge of Microsoft office. Mostly work is done on the word, excel, and powerpoint. But sometimes companies use their own software for data entry.
A well-working computer with high internet speed.
A physical address with a contact number. Including your government Issue ID proof
Bank account details to receive the payment
Type of work that you will receive in Data entry jobs
1. Form Filling
Here you need to fill the forms where you will find a specified field to enter the data. And these are basically two types either you have to enter the data in an online form or it could be a soft copy.
2. Transcriptionist
As a transcriptionist, you have to listen to audio files and then convert this to written or electronic text document. Here you also need to work on your listening skills. Mostly this is used by doctors and lawyers.
3. Typist
Being a typist you have to enter the data on word file from the given source. It could be a software an image or could be any other format. You just need to copy the data by typing.
4. Keyer
Here you need to enter the details into the given software. These are mostly used to enter the data of checks and licenses. Accuracy is very important in this, however, spell check is already inbuilt in their system. But if you are not good at accuracy then you won't be much productive in this field.
Following are the Legit Companies that offer Data Entry Jobs for home
Established since 1996 Axion offer form processing and full data entry jobs. Most of their work is data capturing where you will get the data in image format and you have to convert this into a written word file.
One of the trusted websites where you can signup and work small task like doing product categorization, Search engine evaluation and other data entry works. So they have both data entry and some analysis work. You can choose according to your capability.
Accutran is established since 2002 and they offer jobs as a real-time stenographer and voice writers. They don't' want any kind of certification but you need to qualify in order to receive the projects.
Best place for freelancer you can decide how much you want to work. They offer work like data categorization, participate in surveys, web Search, copy editing, create and correct text. First, you need to signup as a ClickWorker and then you select your work as per your requirement.
Perfect for those who are looking part-time contract in data entry. But their skill requirement is quite tough you need to have at least 60wpm typing speed with accuracy. Once you submit your application wait for 90 days and if you don't' get any response then you can reapply.
It is one of the best websites if which can offer many types of data entry jobs for home. Including Transcriptionist, Book Keeping, Secretarial Administration, Language Translation, Data entry and Market Research. Plenty of work you can apply for both full and part-time jobs.
It is a Georgia based company founded in the year 1992 hire independent contractors for data entry. You will receive hand-written, typed, scanned and online sources to convert into a digital file. Most of their work includes applications, vehicle accidents reports, and law enforcement documents. Majority of their work comes under micro job category but the frequency of work is quite good here.
You won't receive any normal data entry work here all are transcription based. They offer complete freelance work which means you can choose as many hours as you want. they pay .40/min to 1.75 audio per min. If you are accuracy is 99% it is likely that you receive the higher pay scale. The company doesn't offer and Medical and legal transcription. They only have corporate clients but you need to be a legal transcriber.
Sigtrack provides home-based work for processing voter registration and petition signature. You must be US resident and identity confirmation is done through Skype. They make payment on every Wednesday through PayPal.
The smart crowd is the renowned company who is providing home jobs from last 20 years. It offers flexible working hours with minimum skill requirement. First, you need to join as a member and need to qualify as a professional typist. The test evaluation is done on all three parameters, Alphabets, numeric and signs.