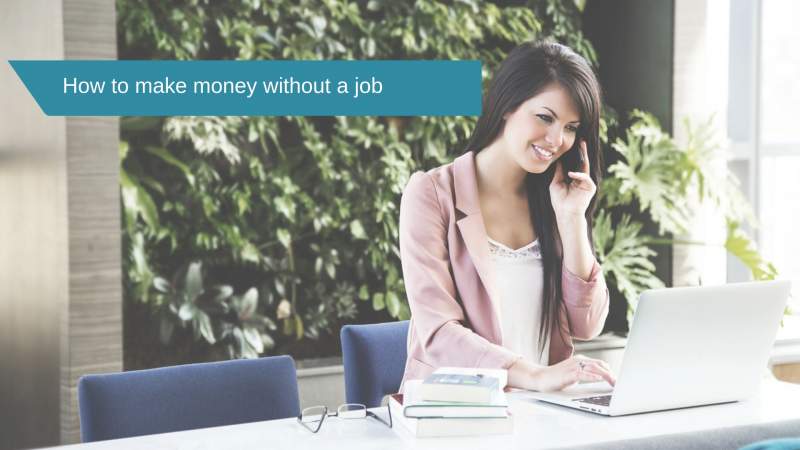 All of us want to quit the rat race at some point. Here's how to make money without a job, and truly set yourself free.
By 2020, 50% of America's workforce will work remotely. That's a staggering number that speaks volumes about the digital ecology we live in today.
Already, hordes of digital nomads have found ways to nix their desk job in favor of full-time remote work. Where are you in your journey to leave the rat race forever and start working from home?
If your goal is to become the next digital nomad, you're going to need to learn how to make money without a job first. Your Google searches yield spammy get-rich-quick schemes, though, don't they? You need genuine ways to make money from home.
Read on to find them. You'll be making money from home in no time.
How to Make Money Without a Job
Older generations scoff at the idea of making "easy money" online. What they don't know is that there are tons of legitimate ways to make a living without a conventional job today. One thing's for sure: the gig economy is alive and well.
Become an Uber Driver
Uber took the world by storm in 2009 when it introduced its peer-to-peer taxicab business. Never used Uber before? It's simple: the app connects a willing driver with someone needing a ride.
To sign up, you need to have a decent car and pass a background check. Once you're approved, Uber will send you a phone to use for GPS.
Some have a hard time making full-time wages driving for Uber, though. One Uber driver reports that they'd have to work 80-120 hours a week to make a full-time living. That's why Uber is probably best suited for retirees looking to earn a few extra bucks, or anyone looking for a weekend gig.
Affiliate Marketing
You've probably heard of affiliate marketing before, but what the heck is it? It's actually pretty simple. And if you want to learn how to make real money online, affiliate marketing is your first stop.
Here are the basics.
First, you'll create a blog. You can choose any niche you want, but it's best to stick to one. That way, you can build an authoritative internet presence on one topic, which will build trust with your readers.
Next, you'll start posting review articles. 84% of consumers trust reviews they read online just as much as a friend's opinion, so review blogs are incredibly lucrative. This is where sticking to one niche comes in–why should your readers trust your opinion if you're not an authority on the product?
The best way to go about this is to highlight various features of each product you're reviewing instead of championing one product over others. Why? Because if you write that one product is the best without a shadow of a doubt, your other affiliate links won't get any love.
Each time a consumer purchases a product through your affiliate link, you'll get a commission. There are tons of affiliate networks out there that you can join, too. Probably the easiest to join and most accessible is Amazon.
Amazon has a big affiliate program. Since they sell almost every product under the sun, you won't have a hard time finding things to review on the site. Just remember these three keys to a successful affiliate marketing blog:
Post frequently
Focus on SEO to increase your site's popularity
Perform thorough reviews
Stick to those three tips, and you'll be on your way to a passive income in no time!
Sell Stuff
One of the easiest ways to make quick cash: selling stuff you already own. We're willing to bet that you've got a ton of stuff around the house you don't need.
Embrace the minimalist movement. This movement is all about reducing clutter, which in turn actually can improve mental health. Sever your sentimental ties to your possessions and turn that clutter into cash!
There are tons of apps and programs that make this easy nowadays. One of the easiest to use is called LetGo. You simply create an account, snap a photo of the thing you want to sell, and post it to the app.
LetGo will then sort potential buyers and sellers according to your location. You'll be able to log in and see what others are selling. Likewise, local buyers can log in, see your items, and purchase with the click of a button.
If you have a huge wardrobe and could stand to part with some of it, Poshmark might be perfect for you. It's a website on which you can sell your used clothing. Brand name clothing can go for a pretty penny!
Finally, if you have an extra room in your house, consider putting it on Airbnb! People turn to Airbnb when they want a more personal touch than a hotel provides. If you consider yourself a great host or hostess, you might be perfect for the gig.
Hot tip: list your place when there's an event going on in your town. You'll likely make more money. Don't forget to stock up on toiletries for your guests, too!
Invent Killer Software
If you've got a knack for software programming and have a great idea, it's time to get to work. If your software takes off, you might just be the next Tom Gentile.
He created a software called Money Calendar. The software scans years of daily stock transactions to find the most profitable investments for the user. Users make a small investment for a guarantee of big returns.
That's a no-brainer. Inventing software with big returns for the consumer is an easy way to create a hot-ticket item. After all, before you can have passive income, you need a product that sells!
Check out a Tom Gentile money calendar review here to learn more about how he did it, and why it works!
Earn and Save
9 to 5s can be draining–we don't blame you for wanting to leave the rat race and make a living another way. Now that you've read up on how to make money without a job, you're equipped to start your journey!
After you start earning the big bucks, you'll need to get a savings plan in place. Check out our advice on saving money to build that savings account in a hurry!